Why did we need a special menu?
The PEACE project was implemented in three services where food is provided for service users in treatment for an eating disorder: an in-patient ward (Tyson West Two) and two day services, one working with patients seeking to progress towards full recovery (Daycare), the other supporting patients to improve quality of life and reduce hospital admission while continuing to live with an eating disorder (Step-Up).

Traditionally, these services aimed to reinstate regular eating safely, achieve recovery of healthy nutritional status, and work towards normal social eating behaviour. Food provided in these settings is planned to support this. However, people who have features of autistic spectrum disorder (ASD) in addition to an eating disorder may face severe challenges with using ordinary hospital food.
What were the problems the menu aimed to solve?
Some characteristics of ASD can result in multiple food aversions, affect appetite, and make eating physically uncomfortable. This may combine with social anxiety that is heightened at meal times to eating extremely difficult and distressing. This raises anxiety further, commonly causing loss of appetite for food, even nausea or vomiting, creating a vicious cycle of distress and food refusal. Features that can drive this include:
Social anxiety about eating and meal times, especially with unfamiliar people and in an unfamiliar environment
Unpredictable or unfamiliar food
Sensory processing issues may cause many food aversions associated with the appearance, odour, or texture of food, or the tableware or environment
Impaired muscle tone can make sitting at the table, and eating food, tiring
Impaired awareness of the position of food moving in the mouth can increase the sensation and risk of choking, causing extreme anxiety
Eating may provoke physical discomfort and even pain
There may be anxiety and guilt about breaking rules related to food, such as number of calories, times of meals, or not getting eating quite right in some way
Difficulty making and trusting decisions can make selecting food from a menu feel confusing and overwhelming
How does the PEACE Menu address these difficulties?

The PEACE team sought to find ways to make food provision more acceptable for individuals facing these difficulties. We agreed to offer some limited options as alternative to the main food provision. A menu of alternative meals was developed to:

Provide a small number of meal choices, to be available as an alternative to lunch or dinner. (The standard breakfast and snack choices vary only a little from day to day, and include a number of plain, familiar and consistent items.)
Be as predictable as possible. To support this, printed copies of the menu with guidance on use were made freely available. Photographs of the food items, and meals as served, to support this, are in production.
Offer some flexibility to meet individual needs, by planning the menu to enable one course only to be exchanged, or the whole meal
Provide a broadly healthy, nutritionally adequate, and socially normal mix of foods
Provide close to, but not less than, the calories provided by the standard menu
Include some meals that could be provided by staff at short notice, from provisions immediately available
Use only items that could be reliably supplied within the constraints of a hospital food service
As far as possible, use items that would be very consistent and predictable, for example pre-packaged items.
Include items with low sensory stimulation – bland flavour, low odour, neutral colour, homogeneous texture
Include items that require minimal physical effort to eat

Delivering the PEACE menu presented significant challenges to the hospital catering team, and the eating disorders clinical teams. Developing and delivering it needed strong collaboration from everyone involved. Service users' views were collected in the regular catering group meetings, which were attended by the catering company dietitian and the head chef, who were key people in delivering the menu. The dietitians in the eating disorders teams introduced and explained the menu to service users in community group meetings, and individual sessions, and provided training and ongoing support for staff responsible for ordering and serving the food, and supporting service users at meal times. The menu and the way it is used continue to be developed in response to their suggestions.
How is the PEACE menu used?
When a service user has the initial assessment with a dietitian, the discussion includes exploration of issues that might be helped by the PEACE menu, including sensory aversions to foods, difficulties with making choices from a large number of options, anxieties about needing predictable and familiar food, and about keeping to rigid rules about eating. If the PEACE menu may help, the service user and dietitian will care plan how best to use it, and also consider how get ready to work on these challenges and recover more normal eating.
In the inpatients and Step Up services, the PEACE menu can also be used if any service user is not able to eat the meal they have chosen. If this happens, the service user can then make a care plan to use the PEACE menu if they should need it again. This can help service users feel safer to try more difficult foods. In these services, the menu is freely available, and displayed on a notice board.

In the way, any service user who needs it can use the options offered by the PEACE menu, but not more than once without careful discussion and planning.
Alternative Menu for Service Users, Tyson West Two and Step-Up
BREAKFAST

Choose one juice and 2 other items, or one juice and a double portion cereal and milk

Vegan
Apple juice
Orange juice
Vegan (with soya milk)
Porridge with milk or soya milk
Wheat biscuits with milk or soya milk
Bran flakes with milk or soya milk
Vegetarian
Prunes with Greek yogurt (can be served separately)
Pears with Greek yogurt (can be served separately)
Apricots with Greek yogurt (can be served separately)

Vegan

(not with butter)

2 slices white toast with butter, vegan spread or peanut butter
2 slices wholemeal toast with butter, spread or peanut butter

LUNCH

Choose juice or soup, 1 main course and 1 dessert

Vegan
Apple juice
Orange juice
Heinz vegetable soup
Vegetarian
Heinz tomato soup
Vegetarian
Cheese sandwich on white bread with 1 packet plain crisps
Vegan
2 slices toast with 2 portions spread and 1 pot baked beans
Tuna salad with mayonnaise and 2 slices bread and butter or spread
Vegetarian
Crackers with butter or spread, and cheese
Vegan
Date and macadamia bar with fresh fruit of your choice

AFTERNOON SNACK

Choose a drink and fruit

Vegan
1 mug milk or soya milk
1 mug all-milk or soya milk coffee
Fresh fruit of your choice

DINNER

Choose juice or soup, 1 main course and 1 dessert

Vegan
Apple juice
Orange juice
Heinz vegetable soup
Vegetarian
Heinz tomato soup
Vegan
Lentil and sweet potato bake and vegetable
Vegetarian
Plain omelette with mashed potatoes and vegetable
Vegan
Peanut butter sandwich
Vegetarian

Ice cream with a Twirl bar and a banana

(can be served separately)

Vegan
Doughnut with soya custard pot (can be served separately)

EVENING SNACK

Choose a drink and toast or biscuits

Vegetarian
Malted milk, hot chocolate, or milk with sugar
Vegan
Hot soya milk with chocolate or sugar

Vegan

(not with butter)

1 slice white or wholemeal toast with butter or spread
Vegetarian
2 digestive biscuits
For guidance using the menu, see over
• Early Stages - Getting Used to Regular Eating

You will probably begin your stay on the ward by choosing food from a menu which offers quite limited choices, and gradually increase the amount and variety of food you have, over a couple of weeks.

You will then be able to choose your food from the ward main menu. This menu offers a wide range of choices, and is different every day for 28 days, then begins again (the "four-week menu cycle"). The menu is developed from the main hospital menu, and offers dishes from a variety of cultures, with a wide range of cooking styles. It includes vegetarian and vegan options. It is carefully planned to ensure that whatever choices you make, the calories are about the same.
If the Main Menu is Not Always Right for You
We know that no menu can please everyone all the time, and there may be meals when you can't find any option that you like, or feel able, to eat. You may feel a bit overwhelmed by the amount of choices, or find the food is too unfamiliar. To help, we also provide an alternative menu for lunch and dinner, with limited options of quite plain food. It is the same every day, though the choices at lunch and dinner are different. The calories match the main menu.
If you know you will find it difficult to choose from the main menu, arrange to see the dietitian as soon as possible, to make a care plan to meet your needs.
Times When You Can Use the Alternative Menu
You might find that you can't manage to eat the meal you selected from the main menu. Most people find this happens sometimes, for many reasons. Perhaps you were trying to challenge yourself with a new food, or an old favourite you have been avoiding, or maybe you are having a difficult day. Staff can provide a replacement drink, or a meal from the alternative menu to replace the one you chose, though not all choices are available at short notice. If this happens, you should talk to a member of staff afterwards, to care plan how you will manage if this happens again. You can see the dietitian to do this if you wish.
When you are looking at the main menu to make your choices, you may find there is a meal that doesn't provide any choice that you could eat. If this happens, talk to one of the staff. You can make a care plan for you to use the alternative menu at up to three meals a week. You can choose one course from the alternative menu, say just the dessert, and take the rest of the meal from the main menu, or you can choose the whole meal.
You may want to use the alternative menu more than three times a week. Perhaps you have been sticking to a very rigid eating routine, and you don't feel ready yet to be more flexible. There may be a lot of foods that you dislike, or you may find it hard to make choices from a wide range of options. Whatever the reasons, you can make a care plan with the dietitian to use the alternative menu as often as you need. You can also plan to move on to choose more from the main menu if you want to work on expanding the variety of foods you eat.

Example pictures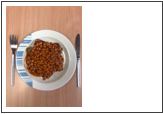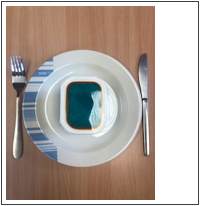 Service User Feedback on The PEACE Menu

User Feedback was generally positive, even from people who did not use it. Some said just knowing it was available helped them to come into treatment, and to try working with the food. Others felt that knowing it was there might keep them stuck in using familiar foods of known content.

About two-thirds of in-patients used it at least once. Some relied on it heavily for a while, usually while they were settling into treatment. Some used it only once or twice.
To prevent service users becoming too reliant on the menu, care plans to use it are always made and regularly reviewed, except for a first-time use when a service user is not able to eat the planned meal.